Servicing Your Toyota During the Coronavirus Outbreak

Cleaning and Sanitizing Your Toyota While It's Here for Service
During these difficult times, Beechmont Toyota remains vigilant in protecting the health and safety of both our customers and employees. In an effort to prevent the spread of the coronavirus (COVID-19), we are closely following the cleaning and sanitizing guidelines set by the CDC and the Ohio Department of Health. In response to these guidelines, we want to make you aware of 3 steps we are taking to protect you and your Toyota during a service visit.
STEP 1: Cleaning and Sanitizing Our Facilities
Like all businesses right now, we are increasing the frequency and scope of cleaning and disinfecting all public areas with a heightened focus on high-touch surfaces.
Additionally:
If any employee exhibits signs of illness they will be required to seek medical attention and remove themselves from the property until cleared to return.
All employees are required to wash hands frequently and we are providing additional hand sanitizer dispensers throughout the dealership.
Staff that come into contact with service vehicles always wear latex gloves.
All loaner vehicles are comprehensively disinfected between uses.
STEP 2: Protecting and Disinfecting Your Toyota
One aspect which we're giving extra attention to is cleaning and disinfecting your Toyota while it's in for service. The following areas will be cleaned using a CDC-approved disinfectant when we receive your vehicle AND again before it is returned to you after it's service has been completed: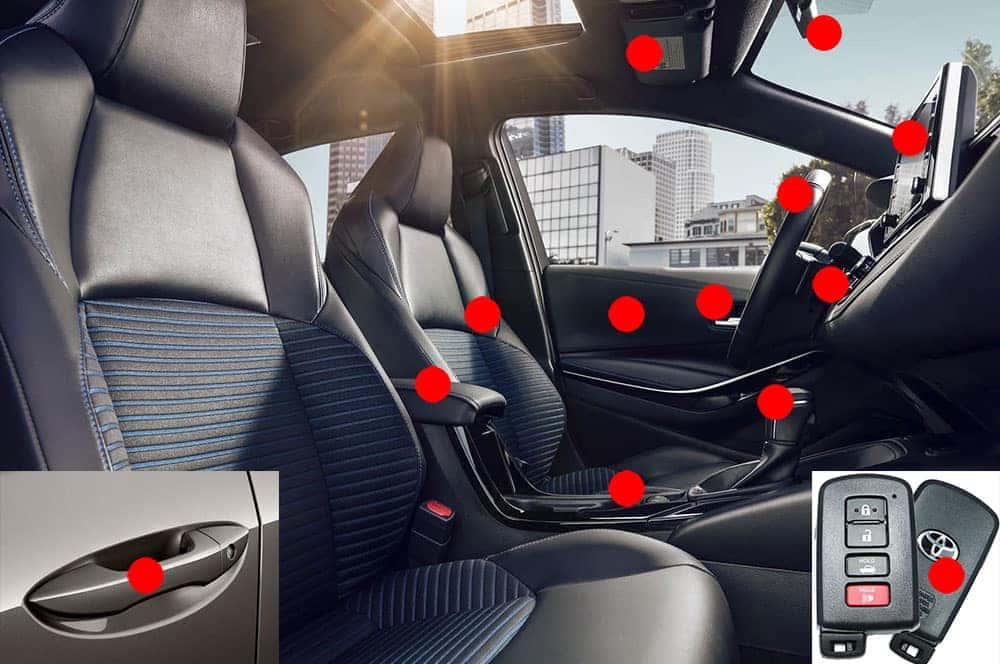 Door handles (in/out)
Steering wheel
Armrests
Mirror and controls
Visor
Shift lever
Door lock controls
Multifunction lever
Turn signal
Radio and climate controls
Console
Key fob
Window controls
We will also use a protective seat cover, steering wheel cover, and floor mat cover as an extra level of protection while your vehicle is in our care.
STEP 3: Minimizing Person-to-Person Contact
Still, the best method of prevention is minimizing face-to-face contact, We have several options to choose from, including pick up and delivery, as well as our "Self Check-In" procedure, which allows for a "no contact" option when bringing your Toyota here for service. Call for details.
While your Toyota is here for service, our Service Teams will communicate with you via phone, email, and even texting. You'll be updated regularly and when service is complete – we even have the ability to send your service invoice to you electronically for review, and prior to picking up your vehicle, you can pay your invoice online – requiring no trips to the cashier at pick-up.
We can't wait to see you again in person here at Beechmont Toyota, but for now, in an effort to safeguard everyone's health, schedule your "Self Check-In" Appointment via the link below or by phone at 513-388-3800.